Case Study: High Society in Belconnen, Canberra
High Society in Belconnen, Canberra is a bustling business district home to the tallest tower in Canberra. It is a stunning building that features unique curves and floor-to-ceiling windows that reflect the city with elegance. Inside are stone benchtops and top-end appliances to create a luxury living experience. Residents can enjoy exclusive, private amenities on-site or venture out to the surrounding shops and restaurants for a taste of local culture.
This case study outlines how Locker worked with our partners to meet builder deadlines despite challenges brought on by the early stages of the COVID-19 pandemic to create a striking car park façade.
Project background
High Society needed to upgrade the façade of their car park to blend in with the area's growing business and residential mixed population. Our plans involved a roughly 2,200 square metre, four-level podium car park façade of folded aluminium laser-cut panels.
"We were first engaged in October 2019 at the initial design stage to massage an idea into an achievable laser-cut design," says Mark Thompson, technical sales representative from Webforge, Locker's sister company. "Over November, we manufactured and provided samples for our client Renrow, to provide to the builder and sign off, which was agreed to in December 2019. The order was placed late January 2019 with a schedule of custom rolled raw material and then COVID-19 hit the world!"
The project didn't stop for the pandemic so Locker put in a substantial organisational effort to meet the expectations of our client and put together a stunning façade. It took not only precise coordination but clear communication.
"The time schedule became crazy [once the pandemic hit] and we had to meet stage scope KPI's which were either met or within a very tight timeline just after," says Thompson. "[Reaching project KPIs and tight deadlines] was achieved with a considerable team effort from myself, our Dandenong staff, our aluminium suppliers, powder coaters and transportation company."
Unique design solutions
Not only was the project set in a bustling businesses area in Belconnen, but the designers wanted the project to be as environmentally friendly as possible. Therefore, the façade needed to become something that inspired both innovation and sustainability for anyone who walked by.
"This building is the jewel in a fast-developing area of Belconnen and has set the standard for the area," says Thompson. "The design of this building met all green standards within an operating district. Delivery, craning of goods and labour were carefully structured to meet government, residents and project restrictions."
The satin bronze coating provides the car park with an elegant appearance that integrates well with the wood panels around the beams throughout. The rippling laser cuttings coupled with the folded panels to create a visual pulse design. To better reflect the curves along the High Society building, we added similar waves with more angular features to make it distinct yet welcoming to shoppers, commuters and residents.
Laser cut aluminium is a durable material that can do several things for a car park façade, including:
Bringing in natural light.
Cooling off a space with shade.
Preventing large pests from entering.
Creating small windows to the outside for weather checks.
Allowing for airflow.
Providing more visibility throughout the building.
The result of the project was a stunning façade that not only met client expectations but sets the tone for the surrounding area. Each laser cut panel was custom made to create a show-stopping product that was aesthetically pleasing while working for the patrons who used the car park. The new façade addressed the airflow of the car park to make it more comfortable and safe from carbon dioxide. It now provides a shaded space for vehicles that will stay cool throughout the summer months.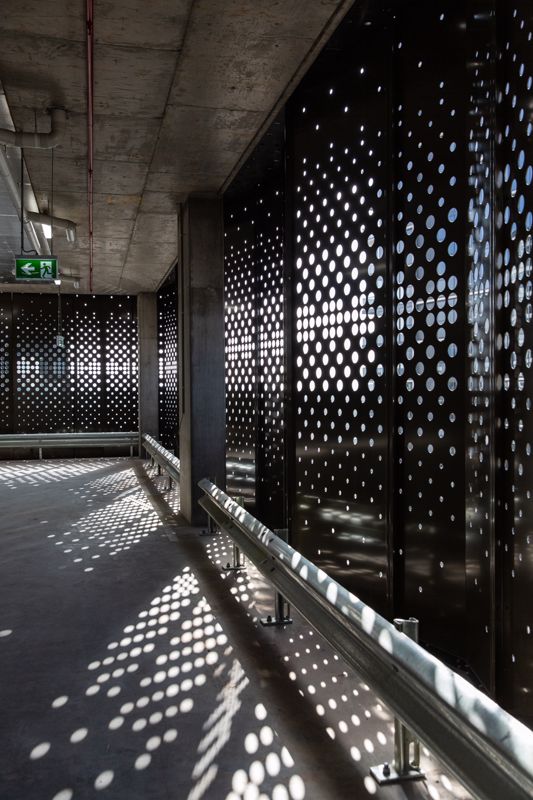 Locker is your solution to creative sheet metal façades
At Locker, we can collaborate with many different teams, budgets and stakeholders. Our laser cut metals provide top-quality architectural products that fit in with a variety of applications for architectural , industrial, mining and quarry products. For more information on how your next building facelift can integrate woven wire, expanded metal and more for more stunning façades, reach out to a representative today to get started.