Benefits and uses of perforated metal
We know the environment and finding sustainable options are top of mind for many businesses today. With the goal of cutting down on energy consumption and finding construction solutions that use recyclable materials, perforated metal can meet many of these expectations. It's a building material that is versatile, weather resistant and attractive enough to exceed your construction goals with the right design and location.
But, what is perforated metal?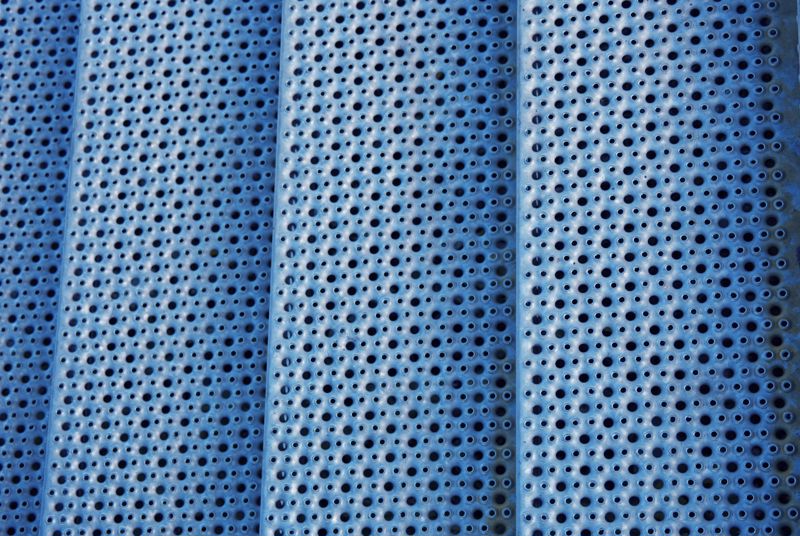 Perforated metal briefly explained
As construction continues to evolve, perforated metal is used more often for facades of any shape and sheet size. This type of perforated metal sheet metal can resemble a grid or wire mesh and the holes within the metal can be circular, square, rectangular, hexagonal or any other custom design.
Architects typically choose a perforated panel to distribute the weight of a building's framework, for ventilation, sun protection and design. The thickness of the metal sheet will depend on weather and wind exposure and how large the round hole perforation is. Finally, perforated metal is usually easier to install than other types of building siding.
How its made
The most common question about perforated metal is how it's made. With a soft, malleable metal like aluminium, a machine will punch holes of any type into the metal. The critical part of perforating the metal is understanding the thickness level necessary to keep the structural integrity intact.
The strength you need for the metal will depend on how the piece is being used — either for structural or decorative purposes. The space around the perforated area must be strong enough to not rip through in the case of high wind and still hold the design of the sheet.
Besides appearance and ventilation, how is perforated metal actually beneficial for building facades?
Benefits of using perforated metal
Metal is known as an environmentally friendly material because it can be reused and reconstructed. And, although the metal is mined from ores in the earth, a lot of the material is already available for use because of its upcycling capabilities.
As the holes are punched into the metal sheet, these waste materials can be recycled for other purposes after they have been molded down and used again.
In addition, perforated metal panels' lightweight properties make it easy to install and lighter to transport onsite, reducing energy consumption. In the same vein, perforated facades can cut down on energy costs. They are capable of providing sun protection for buildings, and with the perforations as actual holes in the sheet metal, you can also use the material for ventilation and to control sunlight coming into the building without the use of additional artificial lighting.
You can even use this material to create intricate designs and interesting images with the use of small and larger holes.
How to use perforated metal
As you may have guessed, perforated metal is a great option for a facade, but it has other uses as well.
For example, perforated metal has been used for noise control as part of resonating absorption. Sound waves can pass through perforated metal sheets without diminishing.
Because of its ventilation and holes, perforated metal can be used as a partition as well. Imagine a bus stop where you need to separate the north- and south-bound routes, yet want a space for benches and sun protection. You can use perforated metal for all three in such a way that commuters can see through to the other side of the stop, get some protection from the sun and are not blocked from any breeze.
Variety and versatility with perforated sheet metal
You can choose any shape or size, aluminium, stainless steel, or mild steel, indoor or outdoor, coated or painted. Perforated steel sheet metal by Locker can give you the material you're looking for, with the perforation pattern design you need to delight clients. For more information or to choose from a variety of off-the-shelf or custom options, reach out to a Locker professional today.