How is perforated metal made?
Perforated metal has been used for the last 150 odd years for a number of purposes. First developed as a filtering system for coal miners, the original perforation process was lengthy and exhaustive. In the old days, labourers would manually punch individual holes into a metal sheet, but thankfully, more efficient manufacturing processes have been developed since then.
Our manufacturing process
We start with a coil of sheet metal in the desired gauge of the product we're making. There are a few different methodologies for different products, however for standard products the coil is fed into one of the machines. The machine's rollers pull the metal through, and the holes are punched by needles mounted on a rotating cylinder as the sheet metal moves through the machine.
For more specialised products such as Pic Perf, the whole sheet would be loaded into a turret punch, where the pattern is programmed in. This way the machines can punch the right configuration of different sized holes to present the larger image. The turret punch allows multiple needle profiles and sizes to be swapped into the punching position, so it's perfect for jobs that require unconventional patterns or greater detail.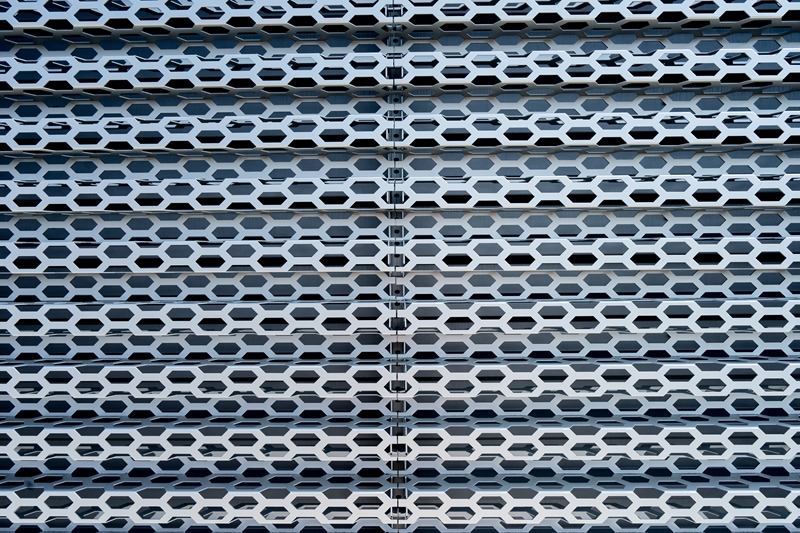 Our flexibility with customisation
One of the things we pride ourselves on is our ability to provide unique tailored perforated metal solutions to our customers. We've set up operations in such a way that we can be flexible in terms of delivering specific or one off products. In many cases we've had to create new tooling to complete custom jobs. We are not put off by this, and we are certainly not the type of company to say "we can't do it." If it can be made, we can find a way to make it.
Our team are always looking for ways to improve the range.
Our engineering team are always looking for ways to improve the range, and this involves some experimentation. Trying out new methods, experimenting with tensile strengths and folding/trimming techniques to the get the best possible product out of the design and manufacturing teams. It's this dedication to flexible solutions and experimentation with materials and processes that helps us stay ahead of the market.
Perforated metals have a huge range of applications. From facades, screens and balustrades to filters, grilles and ventilation. Meshstore is your one stop shop for pre-made perforated and expanded metals, woven and welded wires, and metal planking and railing products. Backed by the industry leading Locker Group, you can shop online right now, check out one of our branches, or contact us for more information.