We've looked at the future of an industry with mining in space, but here's a sci-fi idea that's very much a part of the present: robots.
In South Korea alone there are already more than 400 robots per 10,000 manufacturing employees. The International Federation of Robotics estimates that 1.3 million industrial robots will be installed worldwide in factories between 2015 and 2018. What does this mean for the human role in industry, and how will this affect the need for anthropocentric safety features like non-slip flooring and handrails?
Human and robots competing in the workplace 
Increased industrial automation may change what roles humans play.
Robots are taking on new roles, and this is affecting what jobs are available for people. In 2014 Port Botany in Sydney automated its cargo handling, cutting 180 jobs in the process. And earlier this year the BBC reported that Foxconn, a supplier to Apple and Samsung, had replaced as many as 60,000 workers  with robots. The World Economic Forum predicts that technological change will lead to a net loss of more than five million jobs worldwide by 2020.
A shared workspace
Humans and robots are not entirely incompatible in the workplace. The robots traditionally used in the automotive industry are large, powerful and crude – good for heavy lifting, but not suited to delicate tasks. Not to mention, they are dangerous to be around, with heavy, fast moving arms that could easily strike an unaware person who got too close.
But a Renault plant in France is now using smaller, more agile robots that can do finer, more detailed work. The Wall Street Journal reports that these robots are designed to be 'collaborative' – that they are able to work safely and closely with people. These robots have a variety of technology including cameras and sonar that they use to detect nearby humans and avoid moving in ways that would come into contact with them.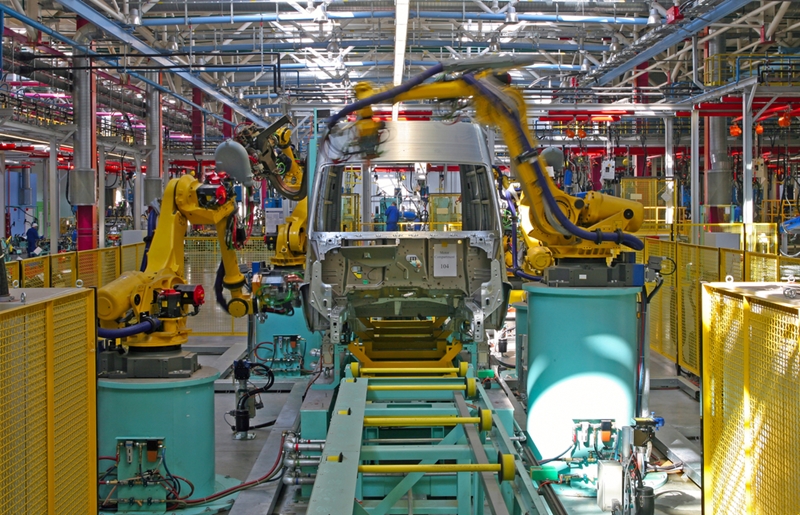 The role we play may change
The increase in industrial automation may lead to a shift in human roles in industrial settings: Rather than actively manufacturing, the role of human workers will be one step removed, installing and maintaining the robots that do the actual labour. We still need a human focus in industrial settings. No matter the level of automation, factories and manufacturing plants continue to have roles for humans and workplace safety remains an issue that companies need to be aware of.
Whatever the scale of robotics in your workplace, your human staff are still the core of your productivity, and the ergonomic measure of how you build your factory or plant. Keep them safe and stable with Locker Group's range of industrial flooring and products.