Locker Group vs. Skynet: How T2 should have ended
Spoilers ahead: We shouldn't have to do this for a movie released in 1991, but don't say you weren't warned.
As far as automated killing machines go, you could find worse than Skynet. They have an army of unfeeling androids, time travel capabilities, and just whatever it is that the T-1000 is made of. If you're like most reasonable people, you'll probably be pretending that James Cameron's Terminator franchise ended with the second installment.
While this film is unquestionably the greatest of all time (citation needed), we can't help but wonder if that final climactic scene could have gone differently if the factory in question had some semblance of health and safety measures. Linda Hamilton's Sarah Connor was the hero of the day, but the overwhelming abundance of safety hazards surely played a role in the defeat of Skynet.
Flooring
There was certainly no shortage of metal grating covering the ample staircases and catwalks of the steel mill in the film. We can't fault the mill there, the flooring was probably strong enough to handle most human equivalent loads. Did the designers of the factory skimp on materials, opting for something that looked strong but wasn't really? Or was it a matter of poor installation?
Either way, we can promise you that it is not supposed to bend and buckle at the slightest point of stress. Locker Group's range of industrial flooring solutions would hold up against this kind of pressure. In fact, we guarantee there is not an artificially intelligent death-bot on Earth that could inflict that kind of damage on our products.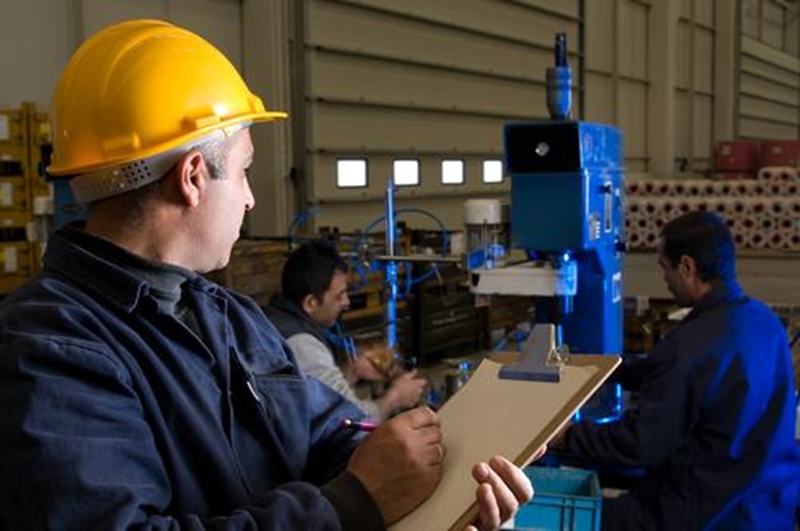 Railing
This may come as a surprise to the T-800's and T-1000's of the world, but good safety railing doesn't come loose when you pull or push on it. In fact, safety railing is generally designed to do the opposite. How do we know? Well, we've been manufacturing products like this for decades.
General housekeeping
Safety in manufacturing isn't just about "doing your best" but whoever is in charge of the steel mill in Terminator 2 isn't really even trying. To start with, there are too many angles in this scene that show off seemingly random bits of equipment emitting sparks. If your factory has something dangling from the ceiling spitting sparks everywhere, you should probably sort that out.
Further, if you have an enormous churning gear that an Arnold Schwarzenegger can merrily ride on – put a safety barrier or even a wire mesh enclosure around it. Finally, Locker Group would like to advise against an unrailed platform that hangs over a pool of molten steel like a diving board. This might be the very definition of workplace hazard, and recent studies have found that having employees who are consistently alive is the first step towards creating a safe and effective working environment.
No one wants a Terminator in their factory, but poor materials might be just as dangerous. If the steel mill in question was geared more towards health and safety, John Connor might have got to keep his socially awkward mechanical friend. For more information on how our perforated metal products can contribute towards health and safety, or if you want to talk about robots for a while, contact Locker Group today.