Not just for safe flooring: 4 uses of expanded metal
Expanded metal is a versatile, reliable and long-lasting material that can help promote safety in a wide range of industrial contexts. When your organisation chooses expanded metal for future projects, they know they can count on it for many years to come.
When discussing the specific uses of expanded metal, flooring and walkways often come to mind. The process of expanding metal – stamping or cutting, then stretching to form a pattern – helps the material retain its strength and improve its rigidity even as it becomes lighter and easier to handle. Walkways made of expanded metal can be counted on to support workers as they go about their daily tasks while also providing ventilation and allowing more light to pass through to areas below.
However, there are a variety of other industrial needs that expanded metal can help to address. Consider these examples as you plan your next project:
Safety in car parks
Car parks are often designed as semi-enclosed structures, with openings on each level and an exposed top floor. This provides a clear benefit in terms of avoiding the possibly dangerous buildup of vehicle exhaust, but it also leaves a large opening between the levels of the car park and the surface below. On higher levels, this can prove to be a serious safety risk for those who use the car park. On lower levels, large openings may entice those with nefarious intentions to enter the structure.
Expanded metal maintains the ventilation benefits of open car parks, while protecting those inside from an accidental stumble or fall over the barriers on each level and reducing the possibility of unauthorised access from the exterior. This simple and effective addition can go a long way to improving safety without drastically altering the necessary functions of the structure.
Security doors
In some cases, a solid door is the best choice for security in terms of maintaining a solid barrier that can't easily be seen through. In other situations, increased visibility is vital and a solid door simply isn't an option.
A security door made of expanded metal allows for two-way visibility. Whether staff have to visually confirm that nothing has been disturbed in a secure area as part of their duties or need to see anyone approaching a nearby entrance point before allowing them inside, expanded metal can address such needs. Expanded metal's high degree of strength and rigidity makes it a dependable choice, protecting the area behind the door from unauthorised entry even as it boosts visibility.
Fencing for rural areas
There are a wide range of fencing options for less-populated areas, but they're not all equal when it comes to effectiveness. Keeping homes, farms, livestock and large plots of land safe from wild animals looking for their next meal is absolutely critical. This is another area where the strength, rigidity and dependability of expanded metal can come in handy.
Using agricultural expanded metal as fencing offers a powerful combination of protection, visibility and durability, even when facing the toughest challenges that nature has to offer. It helps keep livestock in and predators and pests out. Additionally, it allows those on the property to easily see the area outside the farm or other operation, even when fencing has to be especially tall for effective protection. And there's no risk of the fence fraying or unravelling, since each panel is composed of one solid piece of metal.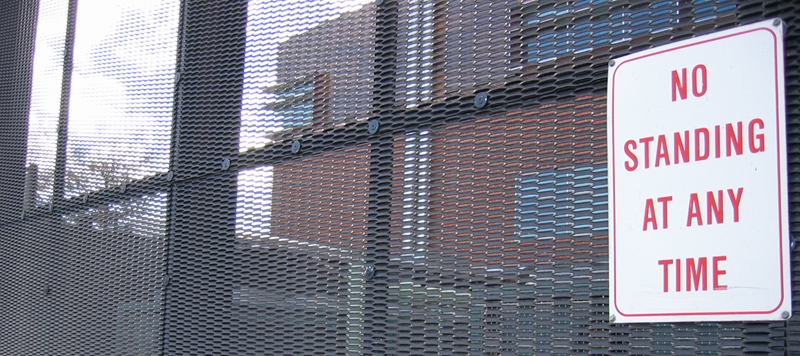 Sensitive and high-security environments
In some contexts, a high degree of security is the most important attribute of a facility or campus. Prisons, high-security laboratories and many similar buildings where effective barriers to the outside world are needed can benefit greatly from the right application of expanded metal.
Locker worked with the New South Wales Department of Corrective Services to develop expanded security mesh, which is now used at facilities throughout Australia, New Zealand and Papua New Guinea. Specific features, such as small diamond cut used when crafting the expanded metal, discourage escape attempts by making them more difficult. Additionally, cowling or razor tape can easily be added to the top of the fencing, further complicating any efforts to scale the fence. And its durability means it can be counted on to provide effective protection for many years to come.
A local, helpful and experienced provider of expanded metal
Locker is an Australian company, producing our expanded metal and many other products domestically. That means you work with experienced, knowledgeable Australians who have a strong understanding of the needs that lead businesses to select expanded metal. To learn more, get in touch with us today.