Locker Group's Summit Kit: A convenient roof access safety solution
Locker Group is proud to present our Summit Kit, a simple, out-of-the-box solution that allows your roof access to comply with the Australian walkway standard. Let's take a look at what this product has to offer and how it can help your business improve its workers' safety.
Roofs, safety, and regulations
There are many reasons why you'd need to regularly get onto roofs of industrial buildings, including accessing air conditioning units or solar panels, general roof maintenance and cleaning. Getting access to the roof of an industrial building can be a serious safety hazard – one that Mike Back, Locker Group's National Business Development Manager, says many companies are not aware of.
According to Safe Work Australia, 25 workers had fatal falls from roofs in the period 2003–04 to 2010–11. The Australian standard AS 1657-2013 strongly recommends that external ladders giving roof access lead to a two metre walkway, with handrails, heading away from the edge of the roof. A lot of buildings, particularly older ones, are potentially non-compliant with best practice as described in the standard.
Locker Group provides the solution
The Summit Kit is ideal for retrofit application to make existing buildings compliant.
Solving this problem was our starting point for developing the Summit Kit product. Locker Group wanted to provide a simple, quick solution that would allow businesses to make their roof access safer without unnecessary bother or cost. Mike Back sums it up:
"We're going to make a complete off-the-shelf kit, so everything you need is in the box, it's been tested to the standard, and it can be assembled by a competent person. If you've got an older building that isn't compliant, you can easily get one of these kits and it'll sort out your problem."
We developed a product to be an immediate, complete solution to the apparent situation. The Summit Kit is an off-the-shelf package, available for a fixed price, that is compatible with a wide range of roof types. It is ideal for retrofit application to make existing buildings compliant.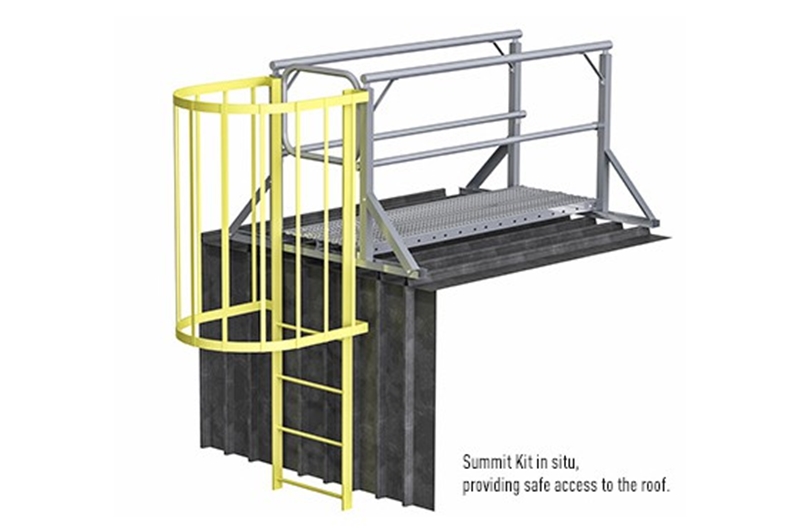 The Summit Kit offers a faster, more reliable option
While other companies can build something to fit, a bespoke solution has drawbacks. The process of measuring, designing, quoting and finally installing can be long-winded and costly, and other products, despite claiming to solve the issue of compliance, might not necessarily have all the correct testing. Customers can be reassured that the Summit Kit does what it promises – this product has been designed and fully tested specifically to do this job and be compliant with the relevant standard.
Easy on roofs
A consideration for any equipment installed on roofs is its weight. Because the Summit Kit is made out of aluminium it is very light, with a minimum installed weight of just 30 kilograms.
A further unique benefit of the Summit Kit that other products lack is the use of Gripspan walkway planking. Any walkway system you install is going to need some sort of support framework underneath, which adds weight to the overall structure. Because Gripspan only needs supports every two metres, it reduces the weight of the Summit Kit and therefore the stress it puts on your building's roof.
Gripspan's design also minimises the contact points with the roof itself. Reducing the need for screws though the roof means fewer compromised points where moisture can get through and potentially cause leaks.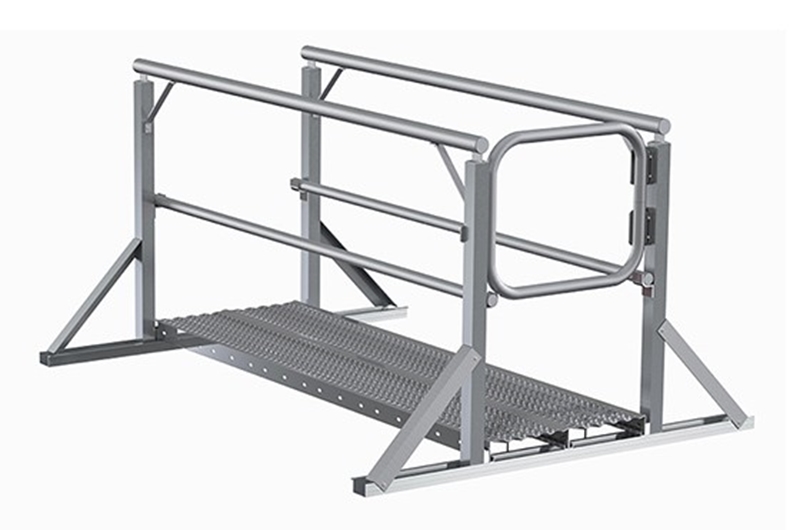 The Summit Kit's easy installation
The Summit Kit is designed to save you time. Its out-of-the-box setup requires only basic effort for installation. There's no need for complicated cutting or time-wasting painting. All you have to do is rivet or screw the kit together, meaning it can be assembled and installed within a short amount of time. Its hardy aluminium construction means you won't need to do a lot of maintenance once it's installed, and rust isn't a worry – this is a long-lasting product that you can set up and then get on with your business.
The Summit Kit easily integrates with existing roof walkways and other Lcker Group products to complete your roof safety system. For new buildings, or ones that require a full roof access solution, Locker Group can provide products such as Gripspan that will work in tandem with the Summit Kit to provide safe walkways and access from scratch.
Where the Summit Kit excels, however, is in situations where an existing building has some roof access already, but needs extra safety equipment to make the entry point safer for workers and to bring it up to standard. The Summit Kit provides this in a quick, convenient package.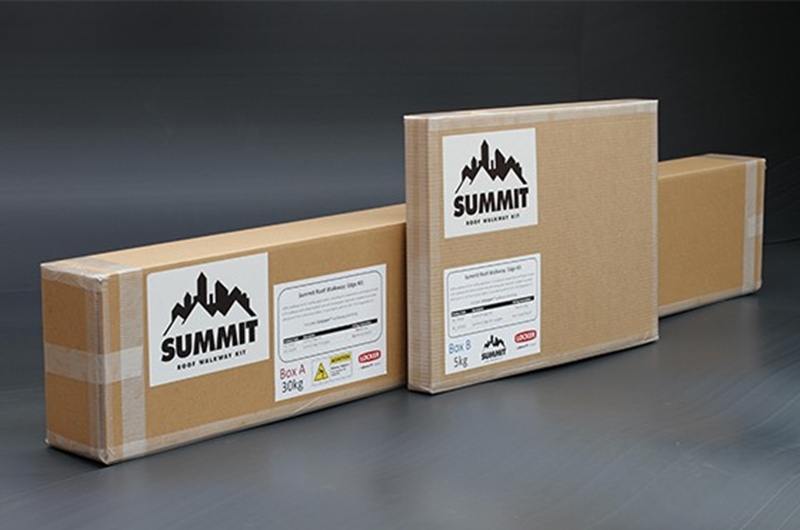 The Summit Kit is Locker Group's newest initiative to supply products that deliver practical safety measures to a range of industries. If you're concerned about bringing your non-compliant building up to standard for roof access safety, then Locker Group's Summit Kit is an easy, reliable solution. For any other roof access or industrial building issues, please get in touch today to find out how we can help.