How decorative metal can add flair to any project
A successful construction or renovation project has to ensure structural integrity and general usability above everything else. But a perfectly functional and safe building will leave something to be desired without a strong visual identity.
Aesthetics are a vital consideration when engaging in new construction or managing a major overhaul of an existing building. The right approach can make your structure more recognisable and memorable to everyone who interacts with it, whether in passing or on a daily basis.
Decorative metal is an excellent option for project managers who want to address the need for strong aesthetics. There are many different choices available, from bespoke designs to standardised patterns, in a variety of materials. Decorative metal can be implemented across a structure's exterior as well as in various internal applications. Whether your project needs cladding, a unique facade, engaging interior design work, or a mix of these design elements, there are a wide variety of decorative metal applications to consider.
Let's look at a handful of dependable, flexible, and eye-catching ways you can add flair to your next project through decorative metal.
Laser
Laser-cut designs in a substrate metal allow for many abstract or representational images and patterns to be faithfully replicated. Recent advances in technology, tools and processes mean laser designs can go far beyond regular or repeated shapes and designs. There are still best practices to keep in mind for ensuring a design isn't so intricate that it causes issues with cutting or the long-term stability of the finished product. Locker is here to help you streamline complicated designs and imagery to ensure the end result is of the highest quality.
Whether your plan focuses on a handful of small panels in key areas or dozens of them stretching across an interior or exterior wall, laser cutting can create intricate images and clean, eye-pleasing shapes. Combined with the many options available for coating and painting laser-cut metal, you can realise a wide variety of results.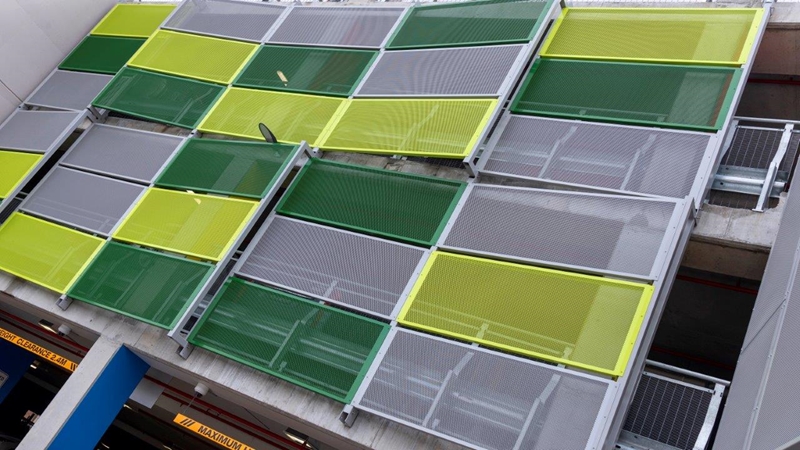 Atmosphere
An intriguing facade makes a great first impression to visitors, guests, workers, and residents. These architectural elements also serve practical purposes. With the right facade, a building can reduce its exposure to sunlight and heat, lowering cooling costs and making areas from offices to car parks more comfortable for those that use them.
Decorative metal used as a facade can evoke a recognisable form or abstract concept through perforations in the substrate layer as well as larger three-dimensional shapes made by aligning panels at an angle or crafting panels with ridges. Colour and finish also play crucial roles. Our Atmosphere offering takes all of these design considerations into account, providing you with a facade that closely aligns with your vision and needs. And detailed work by our engineering teams allows for fast and dependable installation.
Pic Perf
Perforated metal offers a number of advantages in terms of practicality and design. Pic Perf maintains the functional advantages, like regulating exposure to sunlight, with a more complex and powerful visual component. Our Pic Perf process allows you to incorporate imagery into metal sheets through perforations. Our detailed approach allows you to essentially print your company wordmark or logo, a visual representation of the building's purpose, or an abstract design onto metal sheets. The scale at which Pic Perf is created means a high degree of detail is possible.
These panels can serve as a partial or complete facade or as an accent piece, wall, or partial barrier on the inside of a building. The many options available for utilising Pic Perf make it that much more valuable when choosing key design elements for a new project.
Woven Wire Mesh
Wire mesh may sound simple compared to the other options we've reviewed, but that couldn't be further from the truth. Woven wire is available in many different substrates and designs, from the most traditional grids to much more detailed and uncommon weaves and patterns. Mesh offers many of the practical benefits that perforated metal provides in terms of limiting visibility and regulating exposure to sunlight. Coating and painting options offer additional opportunities for customisation. Wire mesh is an effective way to make a new project or major renovation stand out from other structures in the area.
Adding flair to your next project with a top-notch partner
At Locker, we provide a variety of perforated metal and wire mesh products focused on boosting design aesthetics and introducing a sense of flair to new construction projects and major renovations. With our industry experience, skilled technicians, carefully calibrated processes, and end-to-end support, you have a partner you can count on. To learn more, get in touch with one of our experts today.