Customising perforated metal with Locker: a guide
Perforated metal is a common design feature of buildings around the world. It is a cost-effective and flexible way to bring unusual and exciting architectural ideas to life.
In this post we explore some of the features and benefits of custom perforated metal and share some of the ways Locker uses perforated metal products to create striking, innovative designs that fit the customer's specific requirements.
What is custom perforated metal?
Custom perforated metal consists of a metal base with a series of holes or perforations to achieve a particular look and feel.
Custom perforated metal can be added to otherwise uninspiring structures to add some creative flare. It is often the perforated metal that gives a building its visual identity. When people think about that building, it is the perforated metal that jumps out as the defining feature.
Perforated metal design can use a range of bases with custom perforations made to fit the particular architectural design requirements.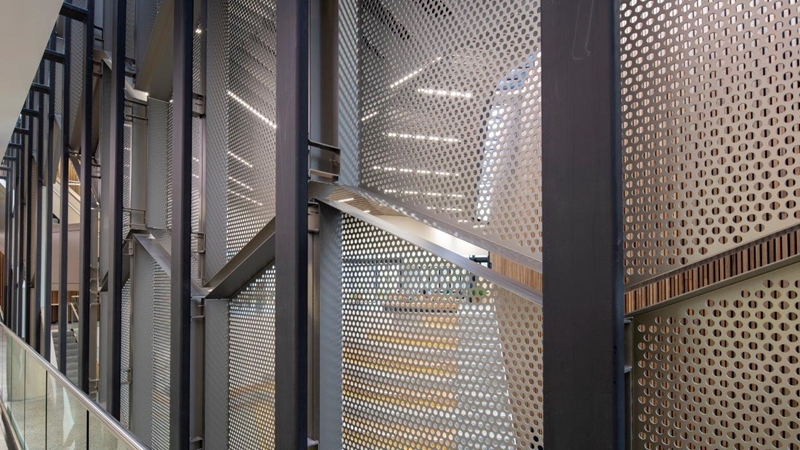 How is perforated metal made?
Perforated metal starts as sheet metal. The perforations are then punched through the metal in line with a predetermined design.
Locker offers a wide range of tools to fully customise this process. That means customers are able to create truly unique designs in the shape, size and arrangement of the perforations. The metal itself can also be manipulated in various ways, with borders, folds and notches.
Most projects use perforated aluminium or perforated stainless steel. But the perforation process can be applied to a wide range of different materials.
What are the benefits of using custom perforated metal?
Drive through any city and the popular appeal of perforated metal is there to see. Here are some of the reasons why so many architectural designs use custom perforated metal.
Flexibility: custom perforated metal is usually just a facade that sits on top of or wraps around a building. Designing, constructing and modifying perforated metal can be done without affecting the underlying structure. This makes it easier and cheaper to achieve particular visual effects.
Creative flair: custom perforated metal allows you to bring real creative flair to a building project without breaking the bank. This could be a new project or remodelling and upgrading of an existing structure. Custom perforated metal has so many different options that each design can be unique.
Natural light and air: the combination of sheet metal and patterned perforations allow for maximum flow of light and air. At the same time, these facades provide shelter from the elements for the structure and its occupants.
Noise reduction: perforated metal can play a useful role in reducing noise. This can be particularly helpful in environments with a lot of noise pollution or concern about the ill effects of noise on residents or workers. Perforated metal allows designs to combine a practical benefit with strong visual appeal.
How does Locker customise perforated metal?
Locker is a leading provider of perforated metal, offering a wide range of fully customisable solutions.
The vast library of tools we use to perforate sheet metal allows customers to make one-of-kind creations that will give a unique look and feel to their buildings or spaces. We also have extensive experience and a large collection of case studies to show the quality of our work and help to inspire our customers for their own projects.
As well as working with a range of materials, Locker also offers different options for finishing perforated metal, including anodising, powder coating and electroplating. Our experts can advise you on the best material and finish for your project's needs.
3 examples of custom perforated metal design
Working with Locker you benefit from our experience and proven track record. Here are just three examples of how our perforated metal designs have brought a unique, creative edge to famous and well-loved buildings.
Brisbane Services Union
In 2018, Locker teamed up with Architectus, an architecture and design studio, to create the facade for the Brisbane Services Union building.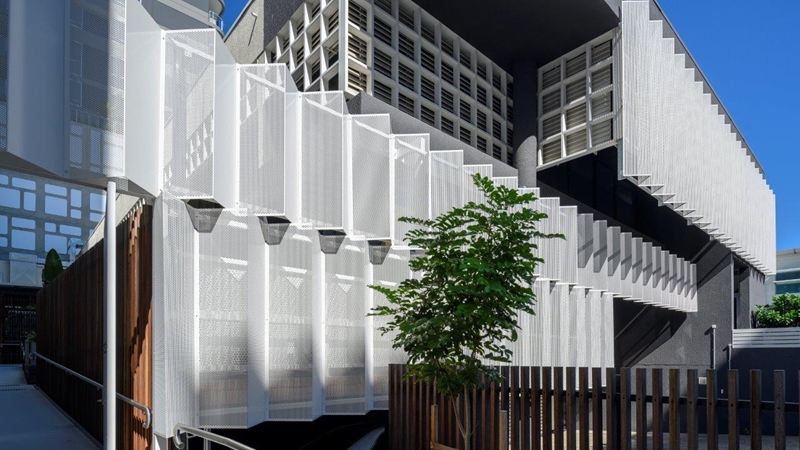 A priority in this project was temperature control, as the building is west-facing and therefore takes the full heat of Brisbane's afternoon sun.
Locker used a specially designed perforated metal system called Atmosphere to help protect the structure, reducing the running costs while also contributing to the aesthetic appeal.
Keep reading about Locker's Brisbane Services Union project.
Latrobe University (Dining Hall)
Locker worked with Melbourne-based architects, Billard Leece, to create a perforated metal facade for the dining hall at Latrobe University's Bendigo campus.
Perforated metal was chosen because it offered good flow of light and air. The project presented a number of design challenges, requiring Locker and Billard Leece to come up with some innovative solutions to achieve the desired look and feel.
Keep reading about Locker's Latrobe University (Dining Hall) project.
Perth Arena (Feature Wall)
As well as external facades, custom perforated metal can also be used to create signature internal design features.
A good example is this project at the Perth Arena. The Perth Arena is a futuristic structure that has become a landmark in the city since it opened in 2012.
Locker used its Pic Perf product as a textural element of a feature wall inside the venue. The wall has perforations designed to look like the folds of a quilt and used anodised aluminium to contrast with the surrounding timber paneling.
Keep reading about Locker's Perth Arena (Feature Wall) project.
Learn more about custom perforated metal
Locker can help you use custom perforated metal to give your next design project a striking, one-of-kind look. Tap into the knowledge of our experts, browse our library of case studies and learn more about how we customise perforated metal here.