Customised perforated metal: A made-to-order solution for your business
Perforated metal sheets have many aesthetic applications in construction and project design, and bring some important practical benefits along with them. One of the most important advantages when it comes to perforated metal is the ability to create unique patterns and designs for a final appearance that is truly one of a kind.
Let's take a look at the reasons why perforated metal is so commonly incorporated into the facades of buildings, car parks and many other structures. We'll also explore the unparalleled customisation options it offers and the value provided by premade, ready-to-ship perforated metal sheets as well.
What is perforated metal?
Perforated metal isn't a particularly complicated product. A metal sheet is fabricated, then stamped or cut to remove some material and achieve a broad range of designs. From there, the perforated sheet can be finished using methods like powder coating, painting or anodisation. The result is a durable, eye-catching and widely useful material that balances form and function.
Why perforated metal is an enduringly popular choice
Facades, screens and similar components of a building are some of the most effective ways to make a location more noticeable and visually appealing. The many colours, patterns and options for unique installations of perforated metal go a long way toward creating a cohesive visual identity. Whether installed by itself or in concert with other elements of a facade or screen, perforated metal makes a statement.
The practical advantages of perforated metal
"Perforated metal isn't just for show."
Perforated metal isn't just for show, although it certainly performs well in that regard. The perforations in these metal sheets offer a few key advantages.
Visibility is an important concern in a wide variety of construction projects, helping people in and around a structure remain aware of their surroundings. While perforated metal adds a facade layer to a building or serves as a screen or barrier, the cut-outs in the metal allow anyone inside or behind to see outward.
Ventilation is a priority for structures like car parks, and must also be taken into account alongside other needs like protecting occupants from a slip, trip or fall from a dangerous height. Perforated metal can serve as an effective barrier while allowing for sufficient circulation of fresh air.
Temperature regulation, when effective, can reduce long-term operating costs for a building and make occupants more comfortable. Perforated metal can be applied over open-air areas as well as windows to limit the amount of sunlight that reaches through, cutting down on overheating and lowering heating and cooling costs.
Flexibility as a key benefit
Perforated metal certainly stands out when it's applied to most or all of the underlying structure, but that's far from the only application where it can contribute to an aesthetic. This versatile material can be used in more specific applications, such as covering windows or serving as a barrier on staircases and walkways, while still visually engaging staff, visitors and passersby.
That kind of flexibility goes beyond the specifics of where and how perforated metal is made, finished and used. Customisation options and Locker's deep inventory of a variety of ready-to-ship styles of perforated metal mean it's possible to find the exact material for your project needs. Let's take a closer look at the value of a made-to-order approach when it comes to perforated metal.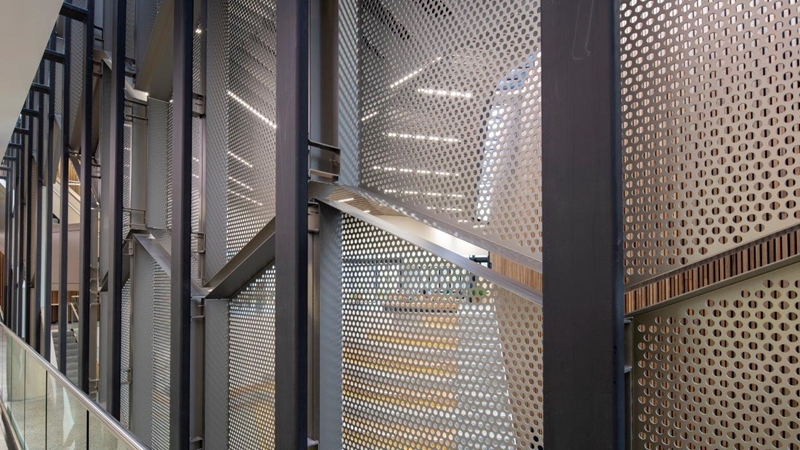 Customising perforated metal: Unique aesthetics and purpose-built solutions
A detailed vision for a project, and especially its outer appearance, can quickly be derailed if there isn't an avenue to turn a design into reality.
When your business partners with Locker to address its perforated metal needs, you gain the power to make many choices in the design and fabrication of this material. That adds up to a truly unique facade, screen or other architectural element. Options for customisation include:
Base material.
Hole size.
Hole shape and orientation.
Pattern.
Addition of three-dimensional profiles, like borders, folds and notches.
Coating and finishing.
Painting.
With so many choices to make, you can rest assured that Locker will provide a made-to-order solution for your needs. Whether it's an interior application simply based on aesthetics or a large facade that must block sunlight reaching the building while also standing out as a powerful design element, we can turn your vision into a reality.
Our deep range of tools makes custom fabrication a simple process. You can work with these tools yourself, as well as supply design information and context to our experts to craft an entirely new design.
And customisation doesn't mean having to place an international order, with the potential for long timelines for completion and delivery. All Locker perforated metal is made right here at our factory in Australia.
Stock perforated metal: More versatility than you may think
At Locker, we maintain a deep inventory of ready-to-ship perforated metal in a variety of materials, patterns and finishes for architectural use. While having total customisation available is a valuable option, it isn't always necessary when the same or a very similar pattern is ready to ship to your worksite. With both avenues available to you, you can select the path forward that best aligns with the unique needs of your project.
Locker is here to help you turn your detailed designs and overall project concept into a successful and complete building. Our team of experts is ready, willing and able to assist in selecting stock or designing custom perforated metal that completes your vision. To learn more, get in touch with us today.