3 ways Locker Group can contribute to green skyscrapers
In March next year Melbourne has the honour of hosting the first Australian Smart Skyscrapers Summit. Based on its counterpart in Dubai, the event will be an opportunity for businesses and industry experts to share knowledge and discuss the future of sustainable, green high-rise development.
The traditional idea of skyscraper design is a poor response to Australia's hot climate.
Australian skyscrapers
Australia has an increasing forest of skyscrapers. According to news.com.au we've got over 300 buildings higher than 30 storeys, and another 272 are in the process of being built. But not all of these structures have the best principles of sustainability and environmental awareness in their design. Dr Phillip Oldfield, senior lecturer in architecture at the University of New South Wales, told news.com.au that the traditional idea of what a skyscraper looks like – smooth, symmetrical and covered in reflective glass – is a poor response to Australia's hot climate, and one that is "environmentally criminal".
According to Dr. Oldfield, the ideal skyscraper design for Australia is one that has our climate in mind from the initial designs, using shade and judicious use of windows to limit the potential for overheating inside. The fully glass design we imagine when we think of a typical skyscraper relies heavily on air conditioning to keep the interior a comfortable temperature, and this excessive energy use could be reduced through a rethinking of design and materials.
Inspired by the upcoming event in Melbourne, we thought we'd look at some of Locker Group's architectural products that could be used to create sustainable, architecturally interesting skyscrapers:
1. Curtains
Whether your building is residential or commercial, the people occupying it will want two things: privacy and ventilation. Within a floor of the skyscraper, particularly in a commercial venue, you may want to divide an open plan room into multiple spaces. But adding walls will limit air flow and you'll need to resort to more artificial air conditioning to keep things comfortable.
Wire mesh curtains provide a way of defining areas of a storey without constricting light or air flow, ensuring a liveable, breathable space that nevertheless offers privacy for the separate occupants.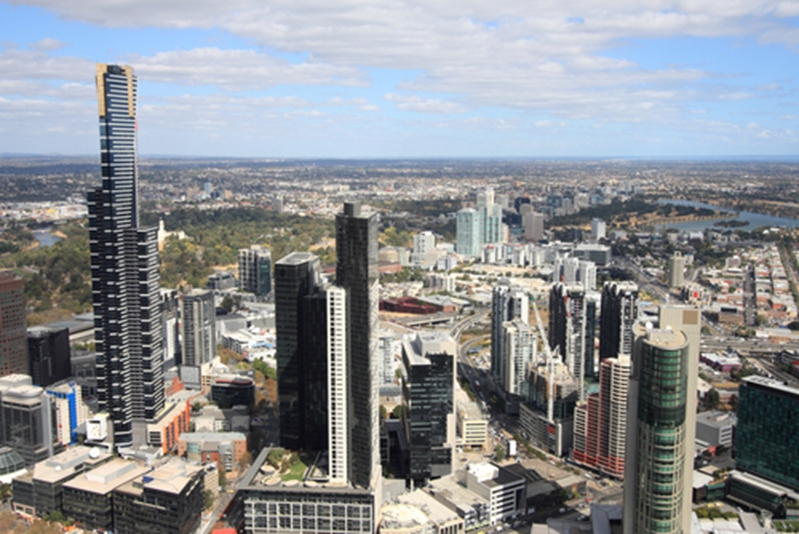 2. Atmosphere
The need for sun protection dominates so much of architectural design here in Australia, and this only becomes more of a focus when your building towers over anything that could hope to provide shade. In this case minimising the light and heat has to be done by the building itself, but so often this seems to come with a compromised visibility.
The need for sun protection dominates architectural design in Australia.
The solution is Locker Group's Atmosphere facade, a lightweight, easy to install product that protects the interior of the building from the sun's harsher effects without limiting natural lighting or the views from inside. This not only improves the comfort of the building's occupants but does so in a way that reduces the need for artificial lighting and temperature control, ensuring your building is as sustainable as possible.
3. Handrails
Finally, the simplest product we can offer for skyscrapers is perhaps the most necessary, even if it does not directly affect the building's sustainability. A building many storeys tall will offer many opportunities for stunning views, but to enjoy them safely people need to be protected from the risk of falling – a severe enough risk at one or two storeys, let alone fifty. For any viewing platform or rooftop garden, you need railings to make sure you're not putting anyone at risk.
As technology develops, so does the scope of architectural designers, and the possibilities of high-rise buildings today is far beyond what it was in the past. Locker Group is proud to contribute to the potential of Australian architecture and design. If you'd like to talk about how our architectural products could be incorporated into your next project, please get in touch today.