3 unusual uses for metal grating
Metal grating is an indispensable tool in a variety of industrial and commercial settings. In its most common applications, it helps keep workers and visitors in a facility safe, providing a stable flooring base and traction when walking at ground level and, especially, at heights. It also can serve as an effective safety barrier, helping to deter accidents that could harm staff, equipment and the facility itself.
Stainless steel grating is especially valuable in this context, as it resists rust and corrosion. That means a longer-lasting walking surface or barrier with increased reliability and greater long-term value to the businesses using it. Grating can be customised to fit in many different facilities and is offered in different formulations, taking different load-bearing requirements and other factors into account.
A material as versatile as metal grating has many more applications than its most familiar one. Using steel grating in new and unique fashions can combine its practical safety applications with other considerations, like a specific aesthetic or an opportunity to set a mood when entering a facility. Let's look at three unusual and attractive applications of metal grating.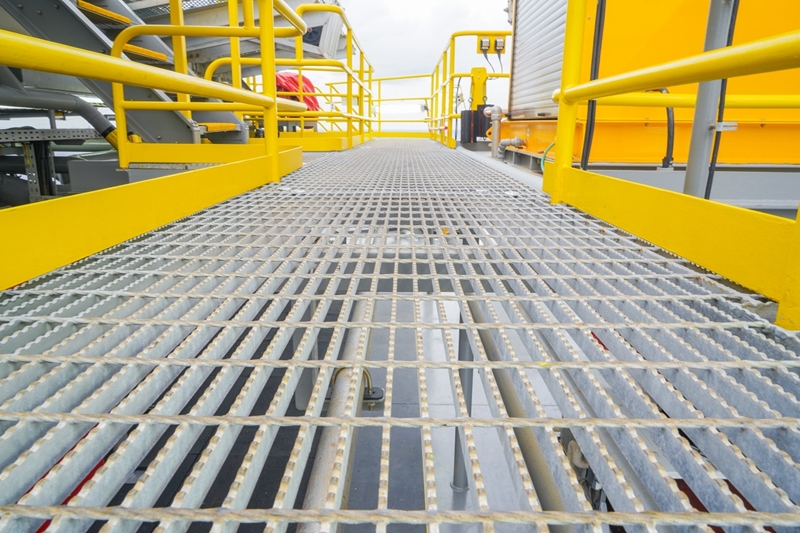 1. A unique, consistent aesthetic
Metal grating can be deployed as everything from standard floor and walkway coverings to platforms and mezzanines. While safety and durability are always the most important factors in these applications, there are also opportunities to create a unified aesthetic for a facility within the requirements set by considerations like the need for traction and weight support. This unified visual feel can make a facility appear more cohesive overall, providing a sense of continuity across all surfaces where the material is used. It can also be extended to protective barriers, strengthening this holistic approach to design.
There are a number of strategies to consider in this regard. Prefabricated panels can be used in many circumstances where this type of grating meets the needs of the facility. Knowledgeable grating providers can also create custom grating that fit into nonstandard floor plans and address specific operational needs, allowing for consistent appearance as well as effective management of safety concerns.
2. Visually appealing applications in entryways and office spaces
Not every space within an industrial or commercial facility needs metal grating from a safety or functional perspective. Office areas, entryways outside of the factory or warehouse and other places within the facility may not need the same slip protection and support if staff aren't engaging in activities that require this level of safety and support. However, metal grating can offer a unifying element in these areas, visually tying all areas of the facility together with a unified appearance.
Using the same metal grating within an entryway or foyer, set into a supporting floor structure, helps to indicate the major purpose of the facility and the type of work performed there to everyone who steps foot inside it. Metal grating can also be used in a pure application of form in this way, mounted to walls to provide visual context. Although it's not being used in its most common application, it can be a powerful design element that creates a sense of unified function.
3. Aluminium – an increasingly popular alternative
While steel grating is often seen as the standard in industrial applications, there are effective alternatives that can replicate the most important elements of this type of support structure. Aluminium is an increasingly popular choice for businesses that don't want to implement steel grating. While not as strong as steel due to its lighter weight, aluminium can capably provide the support and traction needed in a variety of industrial applications. In fact, its lighter weight makes it easier to instal in situations where the load-bearing capabilities of the underlying support structure is an important consideration. Its light weight also allows it to be more easily used as a false ceiling, facade or landscape feature, bringing a variety of aesthetic design options to the table.
Aluminium additionally offers a unique visual appearance that can stand out more than standard steel. If the safety features of aluminium meet your project's requirements, you can benefit from an effective combination of form and function by choosing this option.
Webforge is a leader in the prefabricated and custom metal grating space, offering a wide range of options for industrial and commercial projects. Our ability to custom craft many different styles of metal grating means you can rest assured that your facility can instal the grating it needs to address concerns of appearance and safe operation, regardless of the specifics.
To learn more, get in touch with the experts at Webforge today.