3 products that provide the perfect sunscreen this summer
Summer in Australia means many things – Christmas, beaches and, of course, the sun.
Australians love the outdoors, but we're also increasingly aware of how important it is to give our skin a break from those intense UV rays.
These three sunscreen products provide architects the ability to create spaces which profit from natural light and airflow, while protecting occupants from the sun's rays:
1. Atmosphere perforated metal
Looking at perforated metal you can instantly see how the combination of holes and sheets makes it an instant winner for sun screening applications. While Locker Group has a variety of different ranges of perforated metal products, here we're going to talk about Atmosphere.
Atmosphere perforated metal paneling is a tensioned facade that provides efficient solar shading while creating visually striking aesthetics. The emphasis here is on flexibility – an almost endless number of design options makes these panels suitable for nearly every architectural specification.
In addition to the custom choices, we have three standard perforation profile designs:
E1 and E2: These panels are designed to be used in working towards sustainability achievement criteria by allowing exceptional airflow, minimising the use of HVAC systems.
W1: These perforations are designed to give maximum visibility for those inside the building looking out.
A1: For projects that require high levels of ventilation, A1 provides a continuous facade around the structure.
The protection that the building's occupants get from the elements doesn't come at the expense of natural light, however. The perforations are designed to let light in, and can even be customised to reduce glare when necessary.
In addition, perforated metal sunscreens such as Atmosphere are great for allowing air to circulate through and out of a building. This means that those inside the structure will benefit from a comfortable working environment without having to constantly resort to HVAC systems to get through the heat of summer.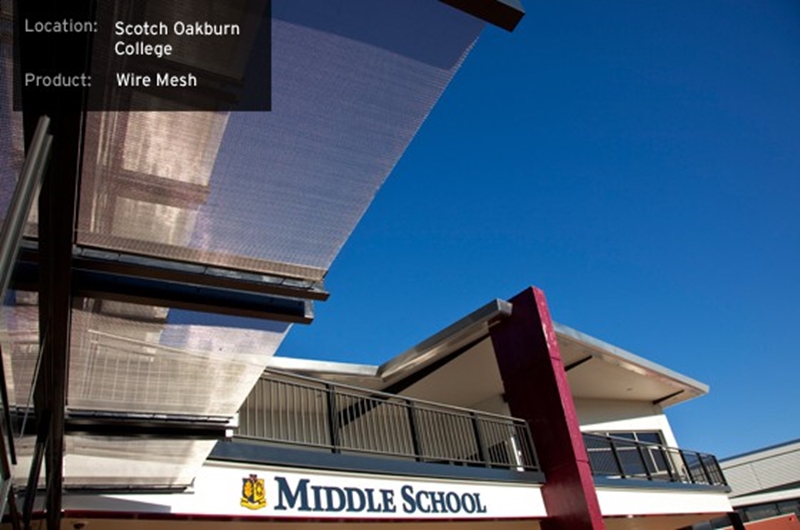 Woven wire mesh can be used both internally and externally to protect against the sun.
2. Woven wire mesh
Woven wire mesh has long been an architect's best friend when it comes to bringing the outside in, or vice versa, and has strong sun screening credentials.
Its combination of delicacy and durability means that it's equally suited to life either outside or inside a structure:
Interiors – Woven wire mesh can be used as a stylish alternative to fabric curtains to internally cover windows, hugely reducing glare on screens for staff working inside.
Exteriors – Externally, woven wire mesh sunscreens provide a lightweight facade option that also protects against wind and rain damage.
One of the greatest advantages of using woven wire mesh on building facades is the ease with which it can be installed. Due to their light weight, mesh screens require far fewer support structures when compared with other traditional framing systems. This is especially true when combined with custom designed cables and connectors. For example, when Locker Group products were used at the Park Beach Plaza in Coffs Harbour, 900m2 of panels were put in place in just nine days.
Even when functionality is the key consideration, woven wire mesh also brings real character to any building facade. For example, at 103 Lonsdale Street in Melbourne, on the outskirts of Chinatown, aluminium wire was used to create a three-dimensional feature in the shape of a golden lantern.
3. Expanded metal mesh
Expanded metal mesh begins life as a simple sheet that's then simultaneously stretched and slit to produce a pattern of diamond-shaped holes, providing the perfect material for sunscreening.
At Locker Group, we can customise everything from the profile size and shape through to the mesh openings and strand widths. This provides a finished panel with aesthetic and functional credentials to meet your demands. While interiors can benefit from larger mesh profiles that promote light flow, when it comes to sun shading louvre-shaped profiles tick all the boxes. The three-dimensional textured finish that comes with expanded metal mesh is great for letting light in, but keeping interiors cool.
As with perforated metal and woven wire mesh, another important benefit of expanded metal when it comes to creating comfortable spaces this summer is air flow. The slit creation that occurs during manufacture allows air to circulate naturally, stopping offices becoming saunas during the heat of the day.
For more information on Locker Group products that will give your project the edge in sun protection this summer, get in touch with our team today.