3 examples of beautiful architectural mesh
Architectural mesh can play a key role in creating a memorable and unique aesthetic for your next building project. With so many different types of mesh to choose from, you're more than likely to find a specific option that aligns with your structure's intended appearance and overall design goals.
Metal mesh can surround all of a building, be installed in a few select areas to attract attention or serve as a divider between the outside world and the property's interior. It also has useful practical applications. When designed and positioned correctly, architectural mesh can provide exposure to direct sunlight and help regulate heating and cooling needs. It also facilitates airflow, allowing for many uses in situations where other materials would restrict the free travel of air.
One of the best ways to understand the value of architectural mesh is through examples. Let's look at some eye-catching uses of Locker's metal mesh.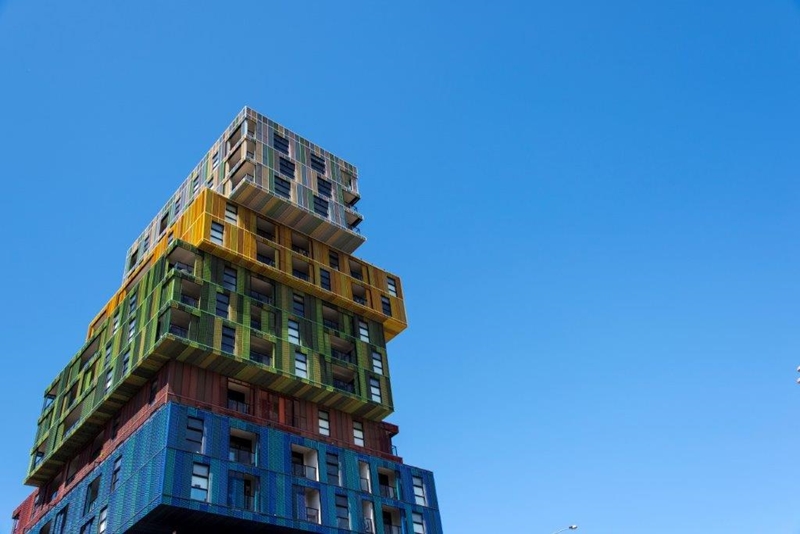 1. The Icon, St. Kilda, Melbourne
The Icon is often compared to a structure of children's building blocks This is a positive association that focuses on the bright colours and distinct shapes. Sitting on a corner of a busy intersection in the Melbourne suburb of St. Kilda, it's a familiar landmark to locals and the many visitors passing through the area to reach amusement parks, beaches and other popular attractions.
Architectural firm Jackson Clements Burrows designed each block to align with the height of another nearby building, providing a sense of structure that balances the overall whimsical nature of these apartments. The mesh incorporates 40 distinct colours, which change ever so slightly based on the position of the sun. Additionally, the building gives off a subtle glow at night thanks to the reflections of nearby light sources by the architectural mesh and residents using lighting fixtures within their living spaces.
While not every building project is focused on achieving such a unique and visually striking end goal, The Icon is an excellent example of the flexibility in architectural design that architectural mesh can offer. Whether your goal is to create a patchwork of brilliant colours or use a more neutral design, metal mesh is an effective and reliable exterior element.
2. Ozanam House, North Melbourne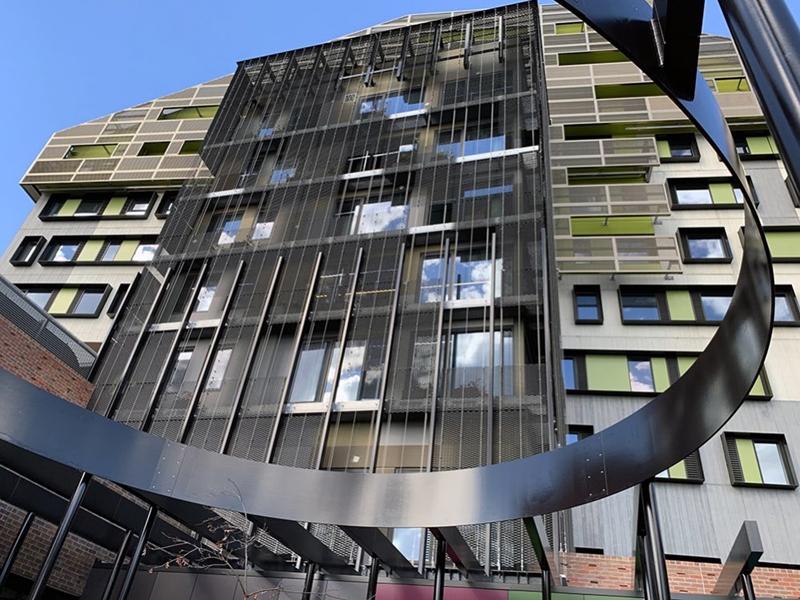 Ozanam House fills a crucial need for the homeless in and around Melbourne, providing support, safe spaces, social services and much more to this vulnerable population. Architectural firm MGS Architects designed the structure with a mixture of openness and privacy in mind, according to ArchitectureAU. That meant specific considerations like leaving the activities centre and courtyard visible to passersby while making the residential entrances for long-term residents more private.
Architectural mesh plays a key design role throughout Ozanam House. It helps to form a large facade at the front of the building while also appearing in smaller panels across the entire structure. Offering a combination of practical benefits and distinct visual appearance, Ozanam House is an architecturally distinct facility. By leveraging the many attributes of metal mesh, it adds another dimension to its aesthetic while also reducing direct sunlight exposure, keeping temperatures more even and regulating the brightness of rooms.
3. Sydney International Airport Car Park, Mascot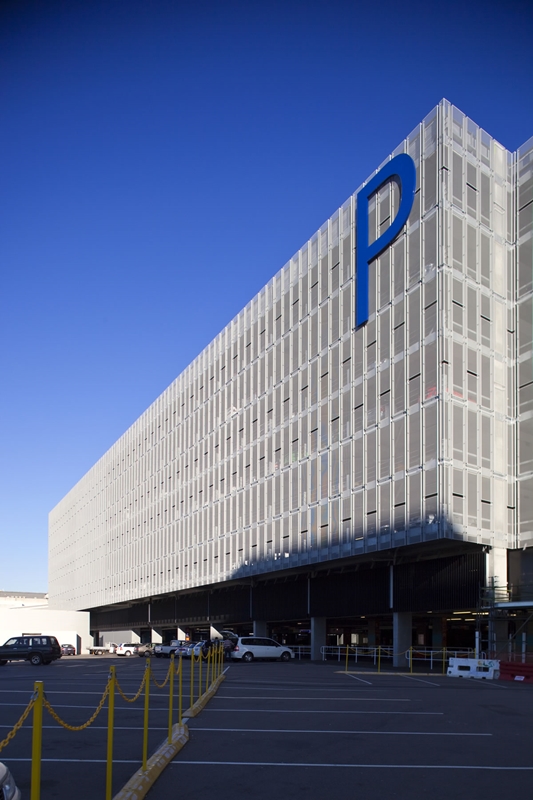 Some airports are excellent examples of functional and aesthetic design. Others focus more on function exclusively. When it comes to the car parks tied to these busy travel hubs, some are built with efficiency and smooth operations in mind, not the visual appeal of the structure.
That's not the case for the car park at Sydney International Airport, which features a uniform perforated metal mesh that presents a clean and uniform yet intriguing appearance for its south side. With minimal ornamentation, the mesh facade can evoke a sense of security and consistency for those looking for and driving their cars into the structure. Its only major identifying signage is a large blue "P," a clear indication of the car park's purpose. A more open side, lacking the metal mesh, also features banners welcoming visitors to the airport, adding some visual variety to the mix.
The use of metal mesh on car parks is especially valuable because it helps promote temperature regulation within the structure. No one plans to spend much time in a car park – ideally, you find a spot and head on your way, then return to your vehicle and quickly leave. Because heating and cooling systems present a substantial cost, not to mention the need to fully enclose what are often open structures, other alternatives can help to manage the temperature of these buildings.
Metal mesh capably fills this role, diverting some but not all sunlight from reaching the interior. This helps to avoid the buildup of heat within each car and makes the start of the return home for arriving travellers that much more enjoyable.
Finding a dependable partner for your architectural mesh needs
Architectural mesh is an especially flexible construction material – not in the literal sense, but through its ability to take on many forms and be deployed across a small area of a structure or to wrap around most or all of the exterior. Choosing the right metal mesh to meet your unique needs is a critical and early step in this process. You want to be sure your project will have high-quality mesh that fully meets your organisation's and client's expectations.
Locker has decades of experience supplying durable, reliable and effective mesh for many types of construction projects. Our products have been used for decades throughout Australia and the greater Asia-Pacific region for creating facades, balustrades and screening, as well as interior applications of mesh and many similar materials. If you're set on using architectural mesh in your next project but need a supplier you can count on from design and fabrication to delivery, get in touch with the experts at Locker.