Balustrade design ideas for all situations
Since before Roman times, balustrades have been an architectural mainstay.
You'll find them on buildings of all sizes and significance, from St. Peter's Basilica in Vatican City to the apartment block at the end of your road.
While they can add a touch of class to just about any structure, you need to marry the balustrade to the project in question. In this article we'll take a look at some balustrade design ideas by exploring popular materials, and which situations they best suit.
1. Glass balustrades
Glass balustrades are popular for the sleek, modern aesthetic they can lend to buildings ranging from private homes to corporate headquarters.
Among the benefits afforded by this type of balustrade are:
Light filtration – A glass balustrade won't obstruct the passage of light through a building, helping to create an airy and open feeling within. When used on exteriors, their transparency means they don't obscure views, making them a perfect addition to a balcony.
Ease of cleaning – Unlike timber balustrades, glass can be simply wiped clean, this is essential for external balustrades that face the brunt of the elements.
The illusion of more space – When used inside, for example on a staircase, glass balustrades prevent spaces from feeling boxy and small by allowing the eye to travel further.
Durability – Glass used in balustrade design is tempered, providing it with strength equivalent to that of steel.
2. Metal mesh balustrades
Another reliable, low maintenance option comes in the form of metal mesh balustrades. Generally, you have a choice between two types of metal mesh:
Woven wire mesh – In this instance, the strands of wire are woven over and under each other, creating an interlocking sheet.
Welded wire mesh – Here, the crisscrossing wires are spot welded together where they intersect.
Ultimately, the decision comes down to a trade-off between strength and flexibility. Welded wire has extra support behind its joints, but woven sheets will bend further before breaking. Knowing exactly where your balustrade will be, and the degree of wear and tear it's likely to face will be important in making this call.
So, where are metal mesh balustrades often employed?
Architects tend to favour this balustrade design type in functional settings, for example industrial facilities. There are a number of reasons for this:
They're cost-effective – While the price of metal mesh balustrades will depend largely on the metal you choose to use, this is generally a budget-friendly choice.
Their strength – Robustness is normally important in these environments and, whether welded or woven, metal mesh ticks the boxes here.
Light filtration – As with glass, mesh allows the passage of light. As well as making for more pleasant working environments, it's important that staff have a clear eyeline as they move around to avoid injuries.
3. Timber balustrades
Timber balustrades are the least functional on this list, usually selected for the sophisticated look they can give to a structure.
However, they bring more to the table than just a pretty face:
Customisation – As an architect, you'll be looking for something that exactly fits your style and size specifications. The good news is that wood is easy to work with, allowing you to create intricate detailing if necessary.
Middle cost – While more expensive than stainless steel, wooden balustrades are usually cheaper than stone, the other material often used to create a classic look.
The most glaring drawback of timber balustrades is their susceptibility to degradation, especially when used outside. However, with regular maintenance, these features can still have a decent lifespan.
4. Stainless steel balustrades
Like glass, stainless steel is often used to establish modernity. The clean lines and shine of stainless steels barriers means they're a popular choice for residential buildings, as well as all corporate settings.
As well as its polished look, stainless steel offers the following:
Corrosion resistance – Thanks to a thin oxide layer that forms on the metal's surface, stainless steel is well protected from rust.
Strength – Stainless steel is stronger than aluminium and many other popular architectural metals.
Ease of cleaning – Thanks to its smooth surface, stainless steel features can usually be simply wiped clean, making them a low maintenance option.
Green credentials – Wherever possible, architects should be looking to use eco-friendly materials in their designs. Stainless steel fulfills this criteria as it can be 100 per cent recycled, according to the British Stainless Steel Association.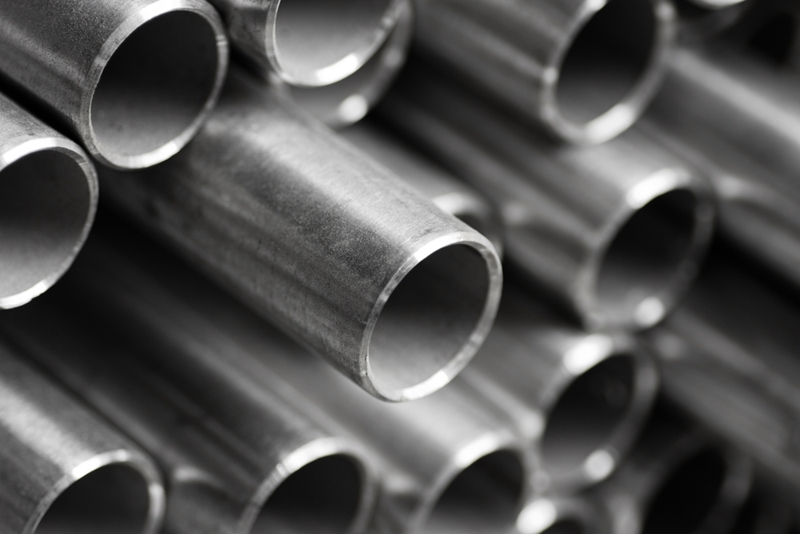 Hopefully this article has provided you with some knowledge and inspiration on the different types of balustrades out there. To find out more about how Locker Group can help you with your next architectural project, get in touch with our team today.